Automotive Compliance Education Debuts New Event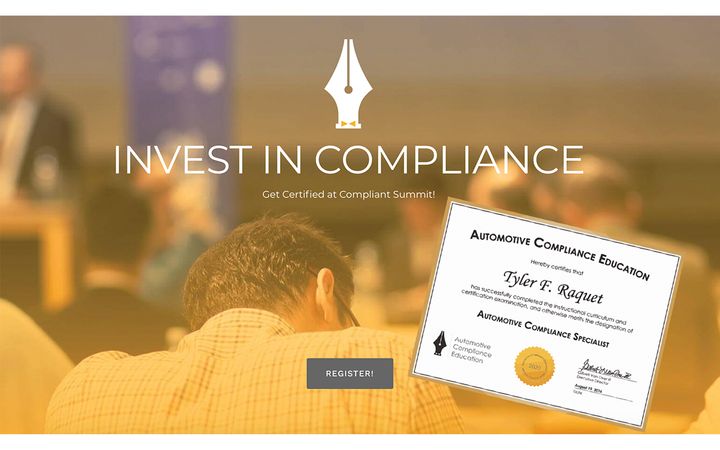 TAMPA, Fla. – Automotive Compliance Education (ACE) announced a new event, taking place Feb. 13–16, 2022 at Renaissance Tampa International Plaza Hotel. Compliant Summit is more than just a compliance conference, the event is designed to increase sales and efficiencies within the dealership with an eye towards doing things compliantly.
Compliant Summit was created to benefit the entire dealership, with specialty educational tracks dedicated to sales managers, F&I managers and compliance officers. Included in the event registration, all attendees will be eligible to sign up and take the ACE certification exam in one of four disciplines: F&I Specialist, Sales Management Specialist, Compliance Officer, and ACE's newest offering, Safeguards Specialist.
"ACE is committed to providing the training dealerships want with an eye towards compliance that they need," said Gil Van Over III, ACE's executive director and show chair.
Attendees can expect sessions dedicated to the following topics:
Updated Safeguards Rule
Paperless Contracting
Using Mediation to Prevent Lawsuits and Keep Customers
Amazon Proofing Your Dealership
Compliant Menu Execution
Desking for Compliance
Developing a CMS
Red Flags in F&I
Red Flags: Common Sense and Technology
Gathering Intel: Interview vs Conversation
Auditing Deals
The Digital Trail
Pre-Loads and Product Sales
Overcoming Objections: 4 Steps to Addressing Customer Concerns
Compliant Credit Applications
Fair Credit and Fair Pricing
Preventing Sexual Harassment Claims
Network Security
and more!
To view the full agenda click here.
In addition to two full days of educational content, a day of certification review and exams, attendees will also have access to all networking events, meals, receptions as well as three nights of exciting activities in Tampa. Evening activities include a Super Bowl party, a networking outing at TopGolf and "Dinner with Strangers."
Registration will open next week. To book your hotel stay click here.
For additional information visit the event's website or email Compliant Summit at [email protected]