2021 GMC Canyon: A Trim Comparison
So you're in the market for a new truck and the 2021 GMC Canyon has caught your eye. GMC is a trusted, reliable car manufacturer that produces vehicles that look like the beautiful older siblings to Chevrolet's trucks. With these trucks, you're getting high-end luxury vehicles that you'll enjoy for many years.
GMC Canyon Trims
With a reputation for having GM's best-built trucks, it's no wonder GMC is overshadowing Chevrolet these days. The new 2021 line of GMC Canyons comes with four different trim options: the Canyon Elevation Standard, Canyon Elevation, AT4 and the Denali.
Even though the Denali is the top-of-the-line, super fancy, and most popular version of the 2019 Canyon line, the other models are worth looking at. You don't want to spend too much money on features you're never going to use or care about. The SLE, SLT and All Terrain are also quality vehicles that you'll be able to enjoy for a long time, so it's worth checking those out, too! Keep reading to find out which 2019 GMC Canyon is right for you.
Cab Configurations
The 2019 GMC Canyon has three cab options for drivers to choose from. The least-expensive is the extended cab, which has only two doors and a shortened space behind the driver for two passengers.
The next size up is the crew cab with short box. This is the most popular configuration option on the Canyon. It has four full-size doors and ample seating for five passengers. The back seat is full-sized, similar to an SUV. The extra passenger space eats into the box length.
The largest option is the crew cab with long box. This features the full-size cab along with the full-size bed. Each larger cab size is, obviously, more expensive than the previous option. To make comparisons easier, we will be quoting prices for the two-weel-drive crew cab with short box, unless otherwise noted.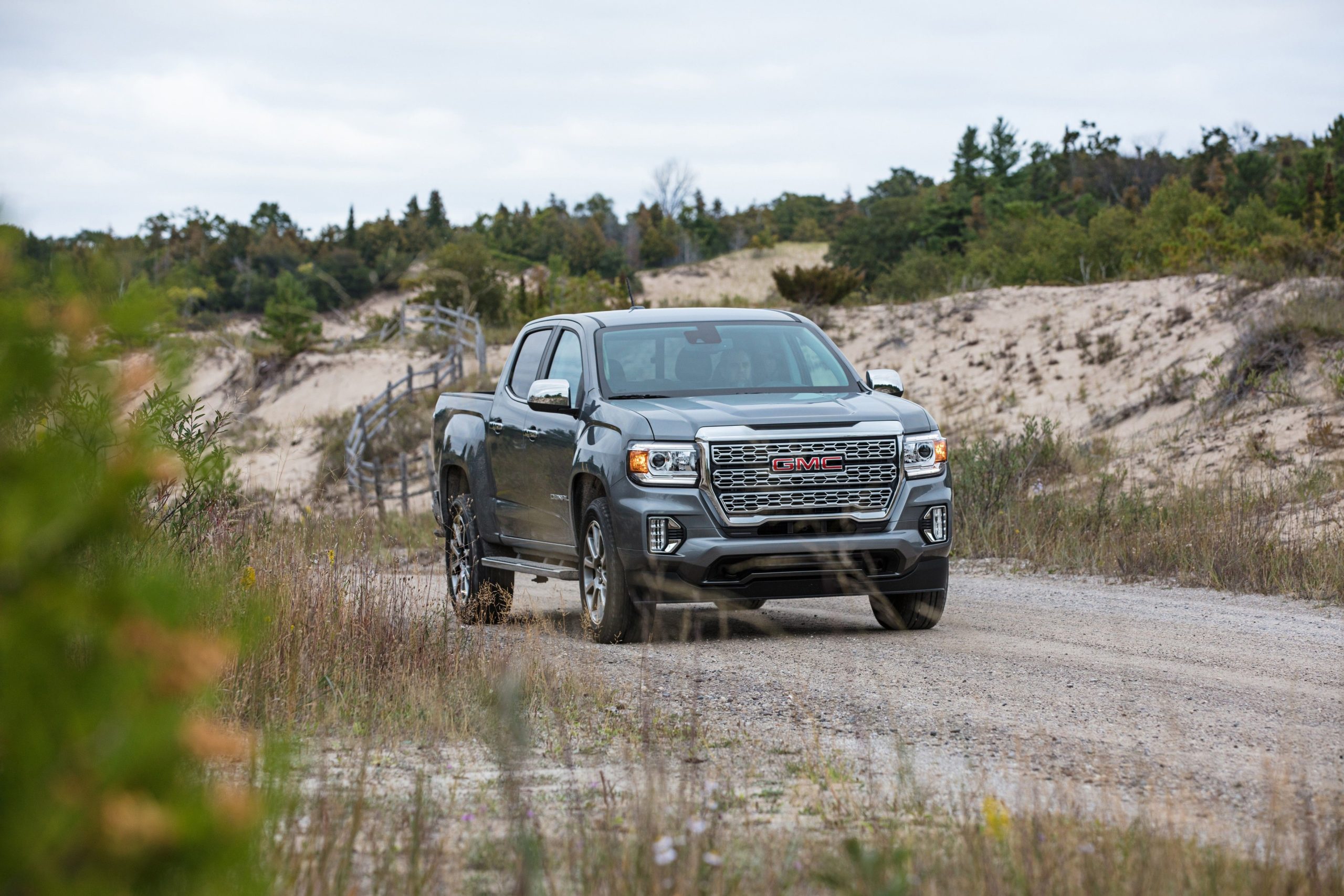 Canyon Elevation Standard
The 2021 GMC Canyon Elevation Standard is available for $26,400. It comes equipped with a 200-horsepower four-cylinder engine, a six-speed automatic transmission, and rear-wheel drive. It's your basic work truck without all the flashy bells and whistles. It does, however, come with a 7-ich touch display, sx-speaker audio, two USB ports, and smartphone integration features. A rearview camera and Teen driver monitoring system are there for you and your child's safety.
The vehicles default configuration is an extended cab with long bed but you can opt for a crew cab and short bed for $28,300. If you are looking for four-wheel-drive, you'll need to upgrade to the 308-horsepower V6 engine for $31,800.
Canyon Elevation
The next level trim is the Elevation starting at $30,000 with an extended cab and long bed. Get automatic climate control, keyless entry, EZ-lift and Lower Tailgate, and remote start. Additional USB ports and a Wi-Fi hotspot are included.
Drivers can upgrade to a 3.6L V6 with 8-speed transmission for an additional $1,485. On the interior, cloth material is standard but you can get leather seats and heated front seats for $1,400. A driver alert package for $690 offers rear parking sensors, forward collision warning and lane departure warning. There's also an infotainment system upgrade for $1,095 that includes an 8-inch touch display, HD radio and navigation.
AT4
The 2022 GMC Canyon AT4 is an all-new trim for the Canyon. it can be purchase with cloth seats starting at $38,200 and leather for $40,000. The Cloth model offers similar features to the Elevation trim, but the Leather version adds the 8-inch touchscreen infotainment system, and driver assistance features from the Elevation model. However, you can get an upgraded infotainment system for an additional $995.
All AT4 models feature a 3.6L V6 engine paired with an eight-speed automatic transmission. It generates 308 horsepower and comes with four-wheel-drive, making it ideal for off-roading and towing.
Denali
Last, but certainly not least, is the 2021 GMC Canyon Denali. This beast starts out at a hefty $40,900 for a 2WD crew cab with short box. It's easily the most expensive out of the three options. The Denali brand is a super-premium build. In fact, the Denali trucks alone account for almost 30% of GMC sales every year.
The sheer amount of luxury features in this truck is what makes the price so much bigger. You get a seven-speaker Bose audio system, navigation and ventilated seats. Leather seating and just about every feature offered by the Canyon is included with the Denali model, meaning there isn't much left in terms of add-ons.