2020 Ford Expedition Max King Ranch Review – Comfort to the Max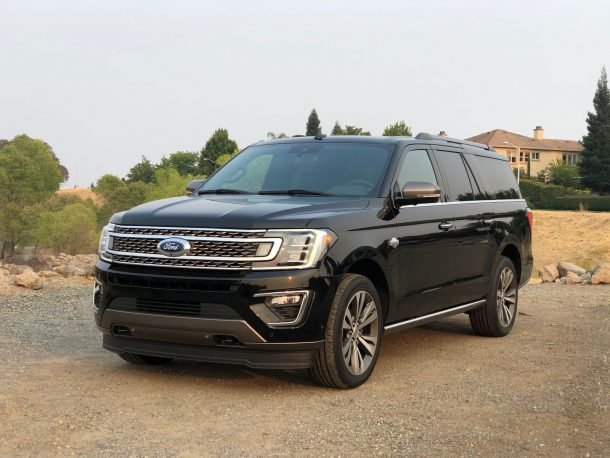 2020 Ford Expedition Max King Ranch
3.5-liter turbocharged V6 (375 horsepower @ 5,000 rpm; 470 lb-ft @ 2,250 rpm)
Ten-speed automatic, four-wheel drive
16 city / 21 highway / 18 combined (EPA Rating, MPG)
14.7 city, 11.2 highway, 13.1 combined. (NRCan Rating, L/100km)
Base Price: $75,590 (U.S) / $82,300 (Canada)
As Tested: $81,680 (U.S.) / $84,200 (Canada)
Prices include $1,395 destination charge in the United States and $2,000 for freight, PDI, and A/C tax in Canada and, because of cross-border equipment differences, can't be directly compared.
In August of 2009, I wrote in the Ode To The Suburban that I couldn't imagine hauling seven people around without at least a cylinder per person. Thanks to Ford's Ecoboost 3.5-liter turbocharged V6, the Expedition Max King Ranch does just fine with only six cylinders. This engine pairs well with the joint venture Ford/GM 10-speed automatic transmission.
Ford built the massive Excursion in its lineup to counter the market-leader Suburban until 2006. The Expedition Max was introduced for 2007, adding approximately one foot in length to the cargo space, which translates to about 15 more cubic feet of space thanks to a 9.1-inch wheelbase increase. This fourth and latest-generation Expedition was introduced in 2018.
Exterior styling plays it classically safe and timeless for such a long-box design, with crisp lines that suit its 18.5-foot length. The trim pieces, such as the mirror covers and roof racks, are a metallic brown and the wheels are a proportionately sized 22 inches. The Agate Black Metallic makes it look like it could be either civilian or government-owned. Nice to keep the rest of traffic guessing, eh?
Research shows the only other difference from the non-Max is that the rear differential ratio is 3.73, up from 3.15 in the standard-length model and 3.31 in the 4×2 Max and 4×4 non-Max. Thanks to the 375 hp at 5,000 rpm and 470 lb.-ft. torque at 2,250 rpm in all models, acceleration is very good, especially for such a large and heavy vehicle. What was really appreciated, and undoubtedly surprised other motorists, is how hard it leaps off the line without any hesitation or perceptible turbo lag. You can also place this thing in traffic rather easily after taking account of its length.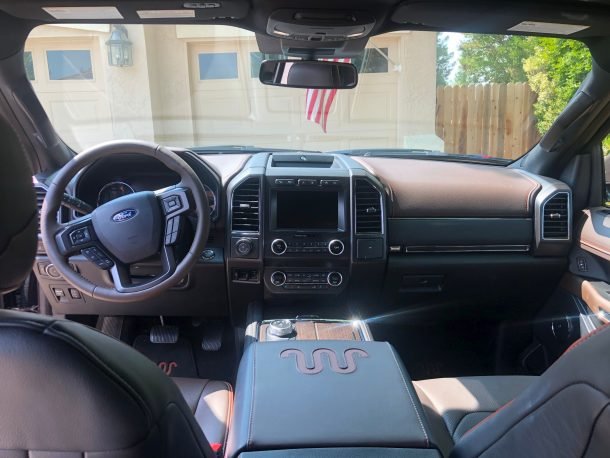 Best guess, based on the weight and horsepower in comparison to the F-150 SuperCrew 4×4, the 5,794 lb. Expedition King Ranch 4×4 may very well run a low 14-second quarter-mile. It doesn't seem long ago that would be considered absurd for any SUV.
Invariably the talk of size, weight, and power leads to the question of fuel economy. The Max 4×4 is rated at 16 mpg city and 21 mpg highway. What this meant with the 27.8-gallon tank was a 583-mile range that was fully realized on several road trips. Its size was especially appreciated while helping my wife with her pop-up art show 141 miles away. It was during that time that the adaptive cruise control was used extensively. It was, indeed, quite adaptive, resuming the set cruising speed when the vehicle in front exited the same lane. The stop-and-go feature also worked very nicely making for an easier highway commute.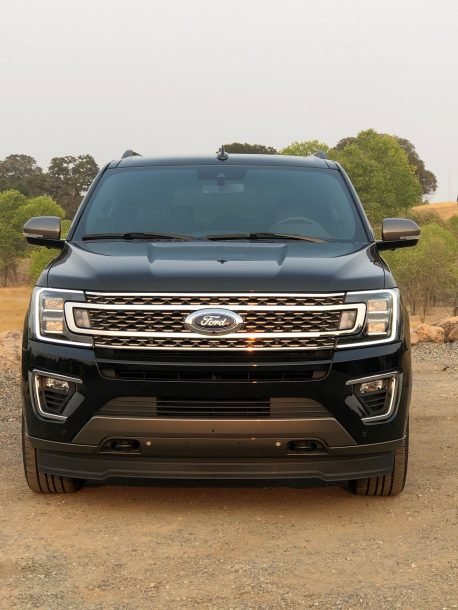 That is when the big Ford was especially appreciated – on a road trip. The interior is extremely comfortable, quiet, and well-appointed. When the two-SUV, two-boys in-laws came over, at night, everyone wanted to pile in and go for a ride. And that was at night! Little kids can walk upright between rows when parked and see out the windows easily. They begged me to get it again at Christmas time to take it to view the lights in the neighborhoods and church. Ford, are you listening?
Trivia for your crew of six while driving: It has 15 cup holders and four coat hooks.
The concern for this driver (and presumably, for most other Expedition pilots) was parking. Surprisingly, it was easier than expected, especially if pulling up where the wheels touch the parking curb. The front camera made maneuvering easier by making sure no signs or bushes were touched while pulling into various parking spaces.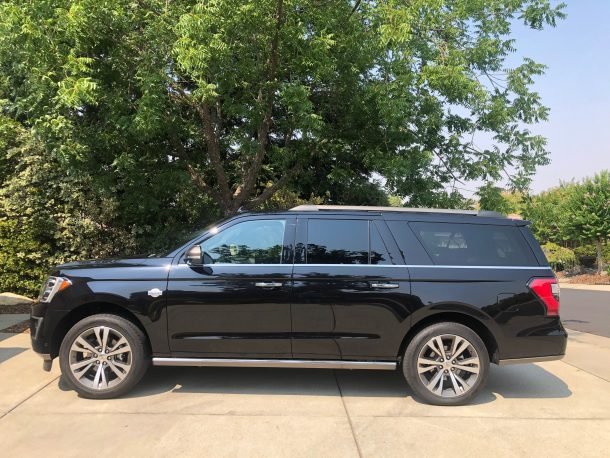 It was during this time the brilliance of the dial gear selector made itself evident. Two detents to the left via fingertip pressure, no visual confirmation needed, and you know it is in reverse. Two to the right, it is back in drive. Very fast, very simple. The turning radius was excellent. There were no Austin Power incidences whatsoever.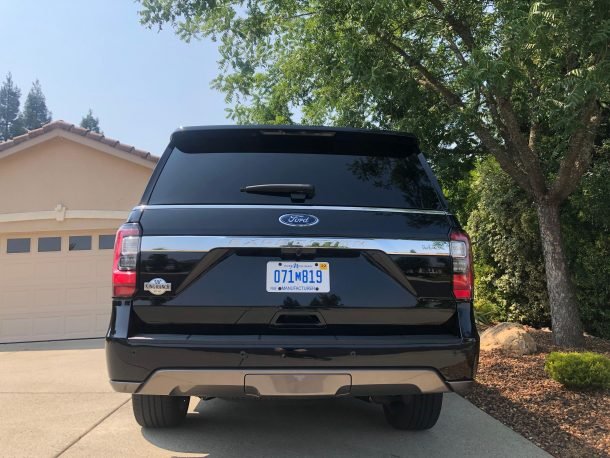 The ride quality was very good, thanks to a design that has an independent front and rear suspension. Just a little bit of truck-like jiggle was felt in the steering wheel and the seat from bumps in the road. Having established the long-distance travel comfort and cargo utility, I found it is also well equipped for towing. This example had the $1,570 Heavy-Duty Trailer Towing Package, which has a trailer weight maximum of 9,000 lbs., up from 6,600 lbs. Also included in the package is an integrated trailer brake controller. This package was part of a total sticker price of $81,680, including $1,395 for destination and delivery.
The technology included in that price is extensive. Some of the convenience and luxury items included: Power-deployed running boards, power-folding second and third-row seats, 360-degree camera, a 12-speaker Bang & Olufson stereo system, park assist, Wi-Fi telematics modem, and much more. The King Ranch Edition includes Del Rio leather seating, the six-spoke 22-inch wheels with dark tarnish painted pockets, and a King Ranch center cap. The same symbol on the center cap of the wheels is on the leather of the top lid of the wide and deep center console.
[Images © 2020 Rob Eckaus/TTAC]
Related