How Growing Trust with Customers Can Increase Profits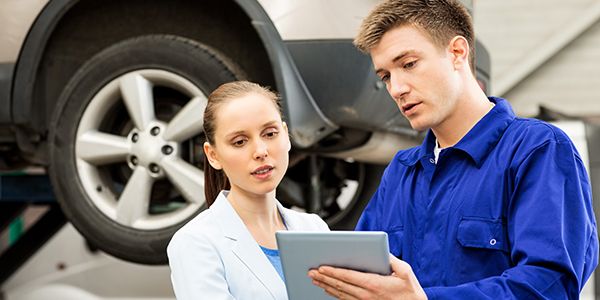 Trust is a two-way street. In the automotive service industry, when your customers trust you with their cars—that you will provide a fair, honest, and transparent service experience—you can trust that your customers will bring their vehicles back for service time and again. It's the two-way service street that intersects with a better bottom line for you and a more satisfying service experience for your customers. And, it all starts with your efforts to improve communication with your customers.
The Fall of Trust
When customers consider where to service their vehicles, trust in a service provider is one of the four most important qualities they consider. It's unfortunate then that the automotive service industry has developed somewhat of a reputation of mistrust. In fact, two out of three U.S. drivers don't trust automotive service departments1.
This overall lack of trust in the service industry, and the importance customers place in being able to trust their service provider, begs the question: Why can't trust itself become a competitive advantage for dealer service departments? By improving communication in a few key areas, including increasing transparency, providing service updates and enhancing the inspection process, your dealership can increase trust with service customers to increase profits.
Trust through Transparency
It's hard to say where the lack of customer trust started, but one reason may relate to an inherent knowledge and information gap between you and your service customers. Your customers may not know enough to diagnose a needed repair or calculate the true cost of service. Aside from some obvious warning sounds and signals, they may not know there's anything wrong with their vehicles at all. They have to rely on you to identify problems and provide fixes, which can lead to some amount of suspicion, especially when it comes time to pay for repairs.
Increasing service department transparency—pulling back the proverbial curtain to give your customers a peek inside the service process—can make all the difference when it comes to customer trust. Smart technology solutions, like Xtime Enhanced Multi-Media, allow service technicians and advisors to easily record and send detailed video of needed repairs to customers, along with the service recommendation. This type of solution not only enhances the customer experience—helping them see actual evidence of needed repairs—it improves service revenue for dealers by 70% per repair order.
Trust through Service Updates
Customers want to be involved in the service process. They want to make decisions and be inf ormed about what's going on with their vehicles. In other words, leaving your customers in the dark is not a great service strategy. It can lead to frustration, impatience, and you guessed it: a lack of customer trust. On the other hand, involving your customers in the service process from start to finish, by giving them frequent updates, can have the opposite effect. It can increase loyalty and customer appreciation.
You've probably experienced this phenomenon yourself in your own personal dealings. How do you feel as you sit and wait for your food without ever hearing from your server? How frustrating can it be to sit in a waiting room for an appointment or wait for an online order to arrive without any shipping verifications or updates from the seller? It probably makes you want to never do business with them again, right?
By giving your customers access to real-time service status updates, you can keep your customers informed throughout their service appointment. Technology solutions can allow customers to monitor the service process right from their phones. After an initial service check-in, customers can get real-time updates, including notifications when a service repair is complete. In addition to improving trust, this service boosts efficiency by freeing up advisors' time that can sometimes be consumed in answering phone calls and requests for service updates.
Trust through Enhanced Vehicle Inspections
It probably has more to do with human nature than customer service philosophy, but people appreciate reliability, dependability, and the comfort of knowing what's coming next. Having a uniform digital multipoint inspection process can build this kind of confidence with the vehicle owner. Knowing that you have a systematic process in place for finding and fixing problems, rather than just relying on the whims or insights of each individual technician, can make your customers feel like there's a science that goes into service repairs.
Again, it all comes back to building trust through communication. By showing your customers that you have a vehicle inspection method that's repeatable and reliable, your customers feel like you're doing everything you can to look out for their best interest and provide them with a thorough, well-thought-out inspection service.
As with anything else in life and business, service department trust is a two-way street. And it starts with your dealership's commitment to improve communication with your customers. Once your customers see that you're making efforts to be open, upfront, and honest with them, they'll make the effort to bring their vehicles to your service department—helping you boost your bottom line and build trusting relationships with customers that can last a lifetime.
12016 AAA Survey, 2018 Cox Automotive Service Industry Study, Xtime Data, Period Analyzed Q1 2021