Everything we know about the Tesla Robotaxi
April 24, 2022
By Jorge Aguirre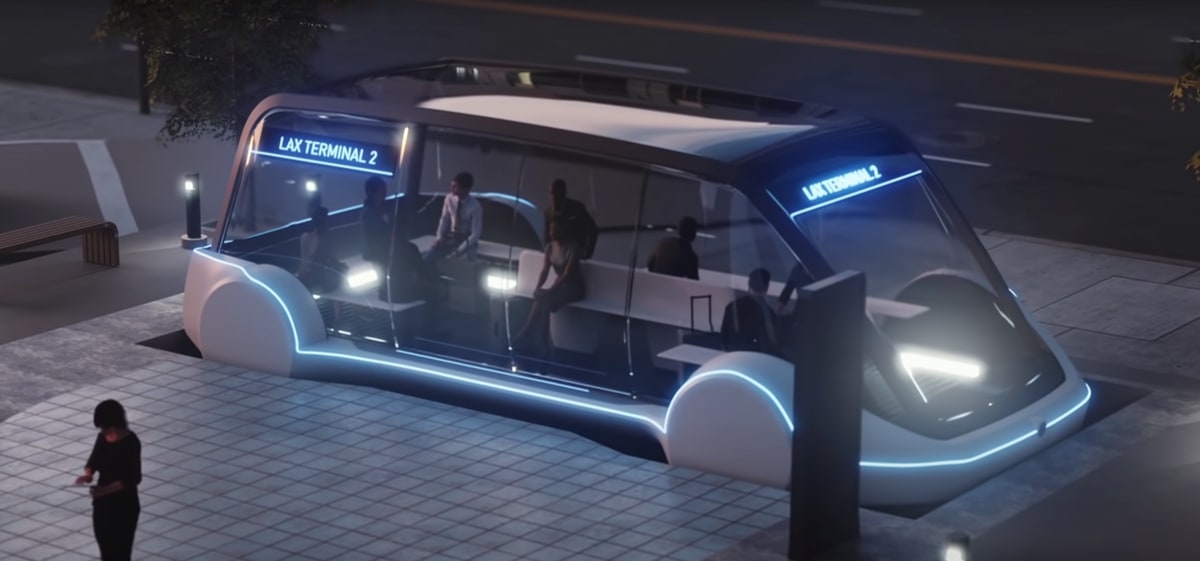 We have been hearing about Tesla's Robotaxi concept for quite a few years, but it seems like we're getting close to it finally becoming a reality.
Here is everything we know about the Robotaxi.
Master Plan Part Deux

The history of Tesla's Robotaxi starts with CEO Elon Musk's Master Plan Part Deux, published in 2016.
At the time the concept was touted as normal Teslas with full self-driving (FSD) capability.
Once Tesla achieved Full Self-Driving, they would create a "Tesla Network" taxi service that would make use of both Tesla owned vehicles and customer cars that would be hired out when not in use.
In April 2022, however, at the inauguration of Tesla's new factory in Austin, Texas, Musk made headlines by announcing that the company would be working on a dedicated Robotaxi vehicle that would be "quite futuristic-looking".
A Variety of Robotaxis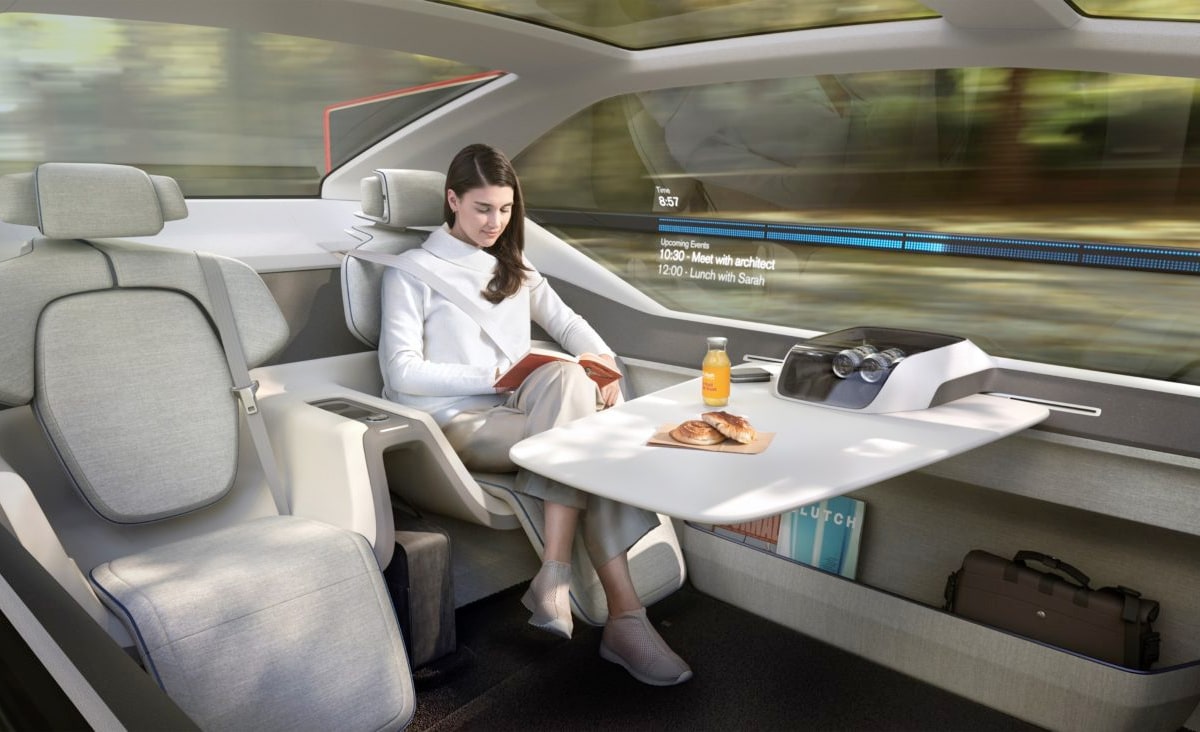 In a way, developing a purposely built vehicle makes sense in order to add certain desirable features we expect to see in the Robotaxi, such as face-to-face seating, big sliding doors providing easy access, 4-wheel steering, easier cleaning, etc.
Tesla could even create a variety of Robotaxis that help meet specific needs. For example, Tesla could offer a vehicle that is beter suited for resting, which could let you sleep on the way to your destination.
Another vehicle could be similar to a home office, offering multiple monitors and accessories that let you begin working as soon as you step inside the vehicle.
Features such as these could bring huge quality of life improvements for some; giving some people an hour or two back in your day.
The variety of Robotaxis doesn't need to end there. There could be other vehicles that are made specifically for movie watching and entertainment or others that allow you to relax and converse with friends, much like you'd expect in a limosine.
Lowest Cost Per Mile

At a time when several companies have announced dedicated robotaxi plans, most notably Zoox, Cruise, and Waymo, Tesla's plan seem to be accelerating in order to compete with these options.
Additional details on Tesla's vision for the future of the Robotaxi just emerged during the conference call after the release of Tesla's Q1 2022 financial results.
During the call, Musk stated that the vehicle will be focused on cost per mile, and will be highly optimized for autonomy – meaning it will not have steering wheel or pedals.
"There are a number of other innovations around it that I think are quite exciting, but it is fundamentally optimized to achieve the lowest fully considered cost per mile or km when counting everything", he said.
During the call, Tesla acknowledged that its vehicles are largely inaccessible for many people given their high cost and sees the introduction of Robotaxis as a way of providing customers with "by far the lowest cost-per-mile of transport that they've ever experienced. The CEO believes that the vehicle is going to result in a cost per mile cheaper than a subsidized bus ticket, and that it will ultimately be a major driver of Tesla's growth.
Release Date
During the Q1 2022 earnings call, Elon talked a little about the timeline for Tesla's Robotaxi. Tesla plans to announce the vehicle in 2023 and begin mass production in 2024.
The difficulty in releasing an autonomous taxi is the self-driving aspect, which Tesla is still actively developing. The Robotaxi's release date will continue to shift in line with Tesla's progress on FSD.
Full Self-Driving

During the earnings call there was no mention of the sensor suite that Tesla is considering for the vehicle but, or whether it would use a modified version of the company's Full-Self Driving software to navigate its surroundings autonomously.
Their current approach relies solely on a camera system, unlike other automakers who are betting on a combination of cameras, lidar and radar.
During the call Musk seemed confident that their method would pay off later this year.
"With respect to full self-driving, of any technology development I've been involved in, I've never really seen more false dawns or where it seems like we're going to break through, but we don't, as I've seen in full self-driving," said Musk. "And ultimately what it comes down to is that to sell full self-driving, you actually have to solve real-world artificial intelligence, which nobody has solved. The whole road system is made for biological neural nets and eyes. And so actually, when you think about it, in order to solve driving, we have to solve neural nets and cameras to a degree of capability that is on par with, or really exceeds humans. And I think we will achieve that this year."
Musk has promised that all Teslas with FSD capability will be able to drive magnitudes safer than a human in the future. However, it's not clear if Tesla stills plans to allow customers to hire out their vehicles as taxis in the future.
If Tesla is successful in achieving an autonomous driving vehicle that costs less than a subsidized bus ticket, that would revolutionize car ownership.
In the future it could actually be cheaper to use one of Tesla's Robotaxis than to own your own car.
Plus, you'll have the added benefits of being able to relax, and reach your destination safer and quicker than driving yourself.
We're Hiring!
We're looking for a freelance writer who loves Tesla as much as we do. If that's you, we'd love to hear from you! Find out more.
April 22, 2022
By Jorge Aguirre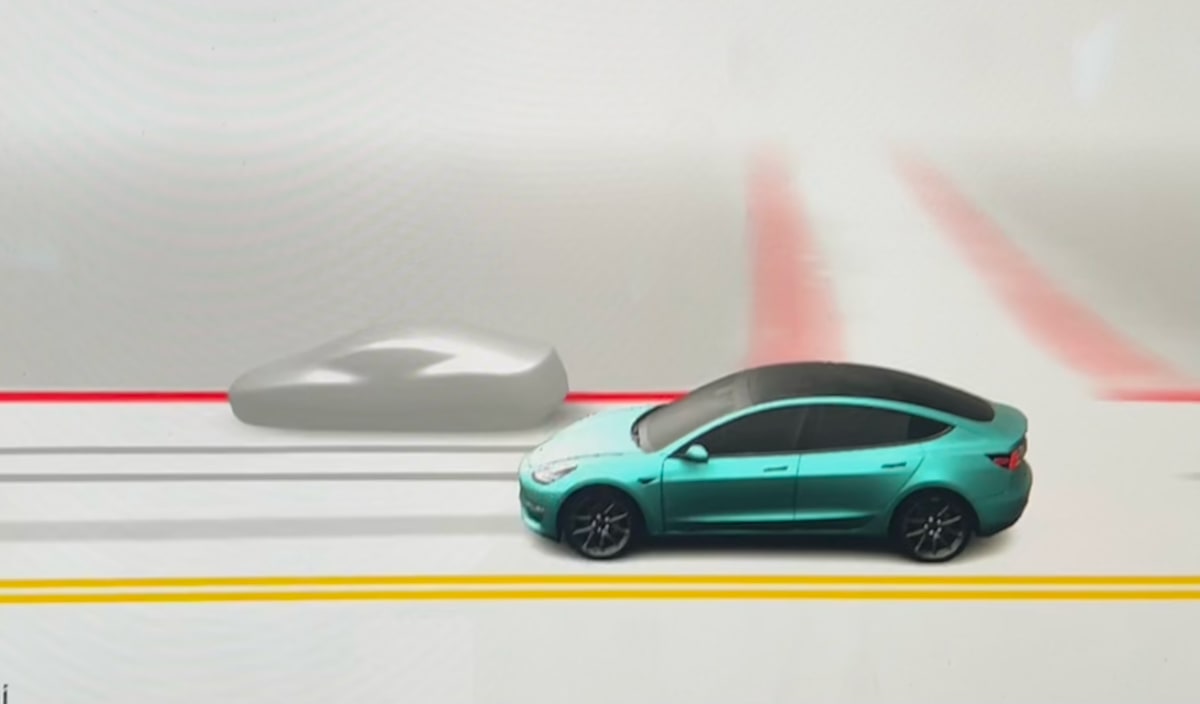 The next iteration of Tesla's Full Self-Driving software, expected to be numbered 10.12, is supposedly making some improvements to the visualizations shown on the vehicle screen.

Most notably, it will now display a new render for sedan-type vehicles that will show wheels and highlight open doors in yellow.

Tesla has been gradually increasing the number of visualizations available on the car display, demonstrating what the car can perceive and respond to in its surroundings. In the beginning Tesla mainly displayed road markers and a few vehicles, and over time started to gradually add more types of vehicles, pedestrians, and traffic cones, speed bumps, even dogs.

The car's visualizations aren't linked to what the computer is capable of recognizing and using to make decisions, but it is very closely coupled with object detection so that drivers have a strong grasp of what the car can see, and therefore increased confidence in their vehicle's self-driving abilities.

The news come from Tesla owner and Twitter user Omar Qazi (@WholeMarsBlog

), who recently posted on his Twitter page: "FSD Beta 10.12 will include a new model for cars in the visualization. The new model for sedans has wheels, unlike the previous floating Tesla key design. Open doors will also be shown in the visualization. Can't wait."

The statement gained credibility when it was replied to by Tesla CEO Elon Musk, who tweeted: "The esthetics of the new rendering will improve". Musk did not elaborate on how else exactly the rendering would improve, or if we might see any other changes in 10.12.

The 3D model Tesla uses to represent our vehicle on the display is much more detailed than other vehicle models. Tesla can make other vehicle models just as detailed, however they're purposely vague to represent any vehicle. This change is likely the beginning of more detailed vehicles in the visualization. It's not clear whether only sedan models will be updated or if other vehicle models will be updated as well.

Elon has previously said that Tesla will soon show vehicle turn signals, hand gestures and more in addition to brake lights. We may see future visualizations depict even more details such as open trunks, hazard lights and more.

In future iterations of the software, we can expect many more objects to be displayed, possibly including buildings, walls, trees, walkways, and other static items that the car will want to avoid.
We're Hiring!
We're looking for a freelance writer who loves Tesla as much as we do. If that's you, we'd love to hear from you! Find out more.
April 20, 2022
By Gabe Rodriguez Morrison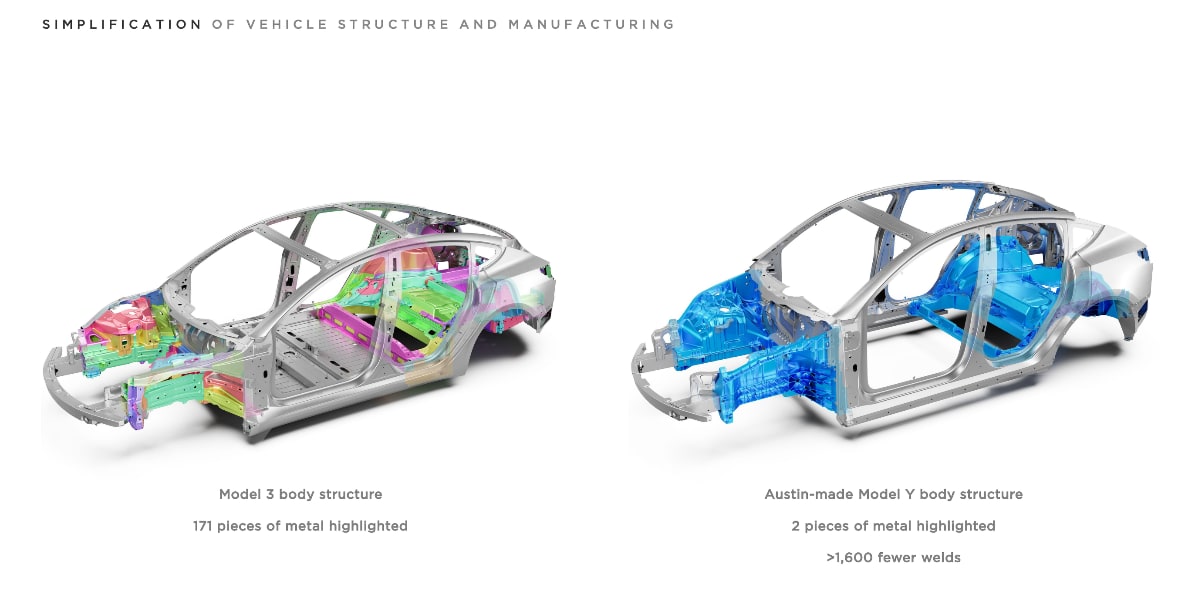 Financial Results

Tesla just reported first-quarter results for 2022 and beat analysts' expectations on the top and bottom lines. Despite factory shutdowns, inflationary pressures and semiconductor chip shortages, the automaker delivered 310,000 vehicles, up 81% YoY.
Revenue also rose 81% to $18.6 billion from $10.39 billion a year ago, thanks to higher average car prices and increased vehicle sales, the company said.
For the period ending March 31, 2022, Tesla reported $3.22 earnings per share. Since posting a record profit, shares have risen as much as 6% in after-hours trading.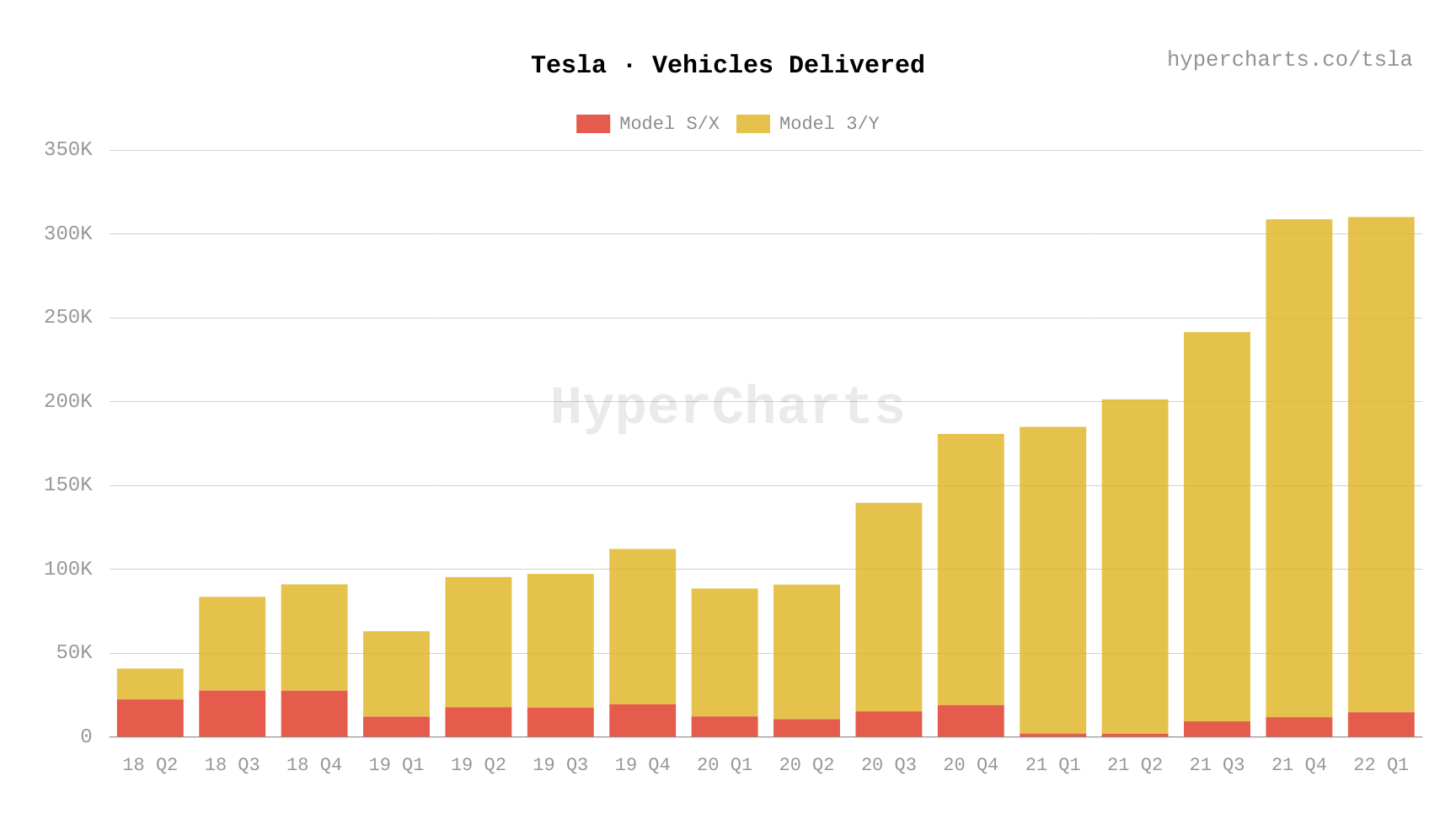 Challenges This Quarter

In its letter to investors, Tesla said supply-chain problems and raw-material prices costs have increased "multiple-fold".
"Our own factories have been running below capacity for several quarters," Tesla said in its shareholder deck. The company did not give detailed guidance on deliveries going forward, but said it expects 50% annual growth on a multi-year basis, and warned that supply chain constraints are likely to continue through 2022."
Tesla said that a spike in COVID-19 cases caused a temporary shutdown of the Shanghai factory and shortages in the company's supply chain.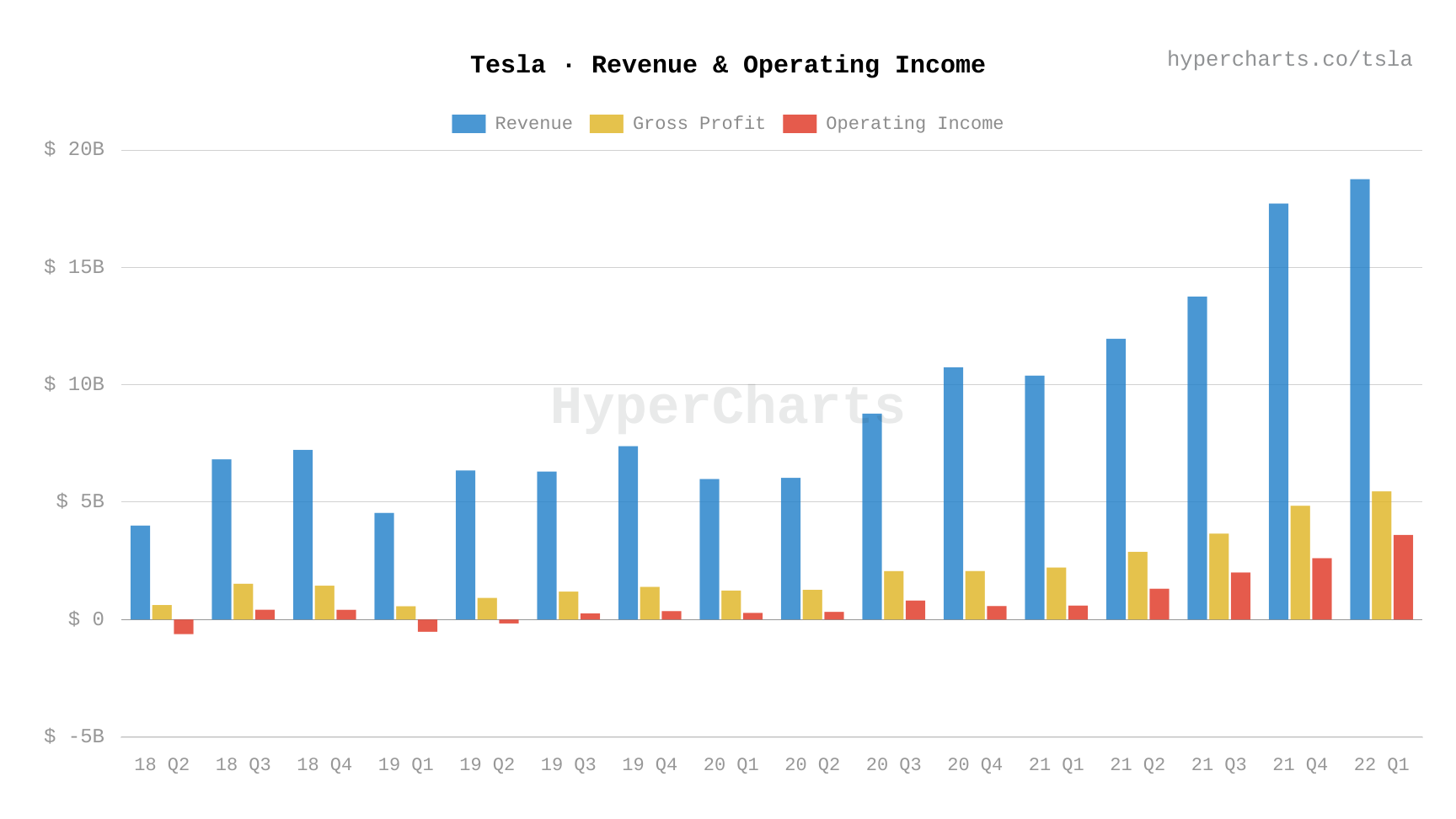 "Although limited production has recently restarted, we continue to monitor the situation closely," the company said.
The ramp-up in the newer Texas and Berlin gigafactories will also depend on supply-chain obstacles, Tesla said.
"Factory ramps take time, and Gigafactory Austin and Gigafactory Berlin-Brandenburg will be no different."
The company also stated it would release its Full-Self Driving to all U.S. customers that opted for the $12,000 package "before the end of this year."
Energy

Tesla's solar deployments dropped by 50% YoY to 48 MW this past quarter. The company deployed 846 MWh of battery storage systems, up 90% YoY, but down from the previous quarter. The company said declines in solar deployments were caused by supply chain constraints on certain components.
Insurance

Tesla says they are the 2nd largest insurer of Teslas in the state of Texas, and could be the largest by the end of next quarter. Tesla is now a fully integrated provider of insurance in the states (list of states) where they have released their insurance product.
Cybertruck and Robotaxi

On the earnings call, Elon confirmed Cybertruck production to begin in 2023 and a vehicle built for autonomy, without a steering wheel or pedals to be produced in 2024 which would be "a massive driver of Tesla's growth."
Elon also reiterated his stance on Tesla's optimus robot, saying that it has more potential opportunity than the car business over time.
When asked about raw materials and scaling to extreme size, Elon stated that Lithium mining is the limiting factor to production. He later said that "Tesla will likely need to help the industry on this."
When asked about the future of EV affordability, Elon stated that the robotaxi will provide the lowest cost per mile of transport ever, a 5x-10x reduction, making it accessible to everyone. Based on their projections, it appears that a robo taxi will cost less than a subsidized bus/subway ticket.
Earnings Overview
Twitter user @DBurkland put together this overview of everything that was discussed during the earnings call.
Opening remarks from Zach Kirkhorn
Per unit vehicle costs increased due to inflation, raw material costs, and supply chain constraints
Slight shift towards more profitable vehicles like the Model Y
Energy business continues to be impacted by macro conditions more than vehicle business (chip
constraints)
Achieved record operating margin over 19% amidst construction of 2 new factories (Giga Berlin & Giga
Texas)
Tesla has reduced debt (excluding product debt) to nearly 0
Lost 1 month of build volume lost due to COVID-related shutdowns at Giga Shanghai (will dramatically
affect Q2 delivery numbers)
Inefficiencies of ramping process at Giga Berlin & Texas will affect bottom line
Tesla still believes 50% YoY growth w/ vehicle production in 2022 is still achievable
Opening remarks from Elon Musk
Record deliveries and production even with many headwinds
Even with COVID shutdowns in Giga Shanghai Elon believes they still have a shot at 60% YoY growth for
2022
Two new factories opened in Q1 and exponentially ramping (Giga Berlin & Giga Texas) with higher
production volumes achievable by end of this year
Just crossed 1m units in the last year however long way to go as Tesla aspires to produce 20m units per
year (only 5% towards their goal)
Elon never more excited for Tesla and their future then he is now
Robotaxi

Highly optimized for autonomy (no steering wheel or pedals)
Numerous other innovations
Fundamentally optimized for lowest fully considered cost per mile, accounting for everything
(very powerful product)
Expect to reach volume production of Robotaxi in 2024

CyberTruck

On track for volume production in 2023

Optimus

Elon surprised people weren't more excited for this but he thinks folks will fully understand
its capabilities & impact will be greater than FSD or vehicle businesses

Energy

Battery & solar production will improve as supply chain issues are resolved
Q&A
FSD Development Progress
Elon has never seen more false dawns than with the development of FSD. Real world AI has to be
solved for (nobody has solved yet) and with our roads designed for humans, NNs & cameras
have to be solved in a way that is on-par with (and exceeds) the capabilities of humans. Elon
still believes they will deliver on FSD in 2022. Best way to realize this is participate in FSD
beta program and experience it for ourselves as they'll be expanding the program later this
year. Still targeting new FSD release cadence of every 2 weeks.
Giga Shanghai Shutdown
Production is coming back with a vengeance and Elon expects weekly production records to be
broken as they work to catch up. Still possible to match / exceed Q1 numbers however Q3 & Q4
are expected to be record quarters in terms of production. Elon believes Tesla will easily be
able to produce 1.5m vehicles this year.
It's important for new factories to target limited configurations during ramp and that is why
both Giga Berlin & Giga Texas are hyper-focused on producing the Model Y.
Ramp period (5k per week) takes typically 9-12 months from start of production however it's
possible for Tesla to ramp sooner based on their experience.
Price Increase
Elon says it is understandable that there are many folks questioning price increases especially
amidst record profitability however the price increases are there to account for an increase in
raw materials costs and potential supply chain constraints in the future (since vehicle
deliveries are a year out).
State-based Dealership Laws
Tesla would love federal-based laws that allows direct sales across the country however congress
is not willing to take up this sort of legislation at this time (so Tesla is approaching it on a
state-by-state basis)
800V Battery Architecture
Tesla is not ignoring the reality that they can go to a higher voltage however there is not any
compelling reason to change at this point
Going from 400V to 800V might save them $100 per vehicle (however requires changing all of the
backend infrastructure)
Switching to 800V might make sense down the road however Tesla needs to increase vehicle volume
to absorb the cost of moving from 400V to 800V first
For larger vehicles where higher power on the battery side and/or charging side is required
(where current requirements go up), savings can be seen by increasing voltage as it would reduce
semiconductor needs (and thus save $)

Tesla is considering different voltages for CyberTruck and Semi
For 3, Y, and Robotaxi they see no need to switch
4680 Batteries
Tesla is working in all areas that they described during the battery day event and making good
progress
Going to take several years to achieve the cost savings and performance numbers they described
during battery day
4680 structural pack will be competitive with the best alternatives later this year and exceed
the best alternatives next year
New chemistries hinted at however will be included in 4680 production later on
Based on Giga Texas factory construction, the 4680 production equipment cost 5x less than what
it would have been with other battery cell designs

Cost model well understood, rate and yield will be better understood as they ramp over
next few years

Giga Berlin will transition to 4680s from 2170s later this year
Giga Texas has the capability to produce non-structural pack for 2170s (mitigation)

Volume production for 4680s in Giga Texas targeted by end of Q3, for sure Q4
Sizable cell inventory thanks to Giga Shanghai shutdown and allows them to be more
deliberate in 4680 development (gives them some breathing room during ramp)
4680 production not a risk to achieving vehicle production target in 2022 however would
be in 2023
Raw Materials Required To Scale
Tesla needs to think about tonnage of Nickel, Iron Phosphate, Graphite, Separators, Electrolytes
for the world as a whole
Then take action on limiting factors that get in the way of the advent of a sustainable energy
future
Tesla is thinking about mining & refining Lithium is a current limiting factor and
responsible for cost growth per cell as of late (single biggest on a percentage basis)
Lithium only makes up only 2-3% of a Li-Ion cell (5kg per car)
Cathode (Nickel & Iron Phosphate) is the heaviest in terms of cost and raw materials
composition of a battery cell
Exciting announcements on the raw materials topic in the months to come, Elon hinted to a follow
up call / event
Tesla committed to recycling at all cell factories, recycling 50T per week in Reno (ramping to
150T) which is putting materials right back into their Cathode supply chain
As they are building new vehicles at new factories, Tesla is recycling everything they can from
a raw materials perspective
Tesla figured out they can recycle cast aluminum wheels from retired ICE cars and throw it into
their aluminum melting pot and use for vehicle body production for 3 & Y
Half of Tesla's products were LFP-based in Q1 2022 which shows how nimble they are regarding
battery chemistry

Also looking at other cathode options to give Tesla further agility

Some of the challenges with Lithium market are not related to supply & demand fundamentals
(frustrating to Tesla)
Giga Berlin & Texas Ramping related to Giga Shanghai
Elon thinks they need to ramp Berlin & Texas faster than Shanghai as they are more
experienced now and have learned so much in the simplification of Model Y production
Body line for front & rear cast underbody + structural pack is 60% smaller than it would be
otherwise in terms of equipment required
If you are waiting for the best Tesla ever you will be waiting forever as they are constantly
improving
Robotaxi
Unveiling event sometime next year, Elon doesn't want to go into too many details until then
Volume production in 2024
Sizable investment required to build robotaxi production lines
Prices Over Time
Elon wants to make EVs as affordable as possible however this has become very difficult due to
inflation (40-50yr high)
Likely to continue for remainder of 2022
Long term contracts with suppliers have helped Tesla keep costs down longer than expected but
eventually they run out
20-30% cost increase from suppliers over last year which is why Tesla has raised their prices
Lithium margins are practically software margins right now (Elon encouraging more to get into
this business)
CyberTruck
Ignoring battery cells Tesla believes the CyberTruck is made of 20-30% less parts than a typical
pickup truck
Giga Nevada
Room for expansion there and the plan is to expand production at Giga Nevada further
Majority of battery cells will be produced at Giga Texas going forward
COVID Shutdowns in China
Elon doesn't think recent COVID shutdowns in China will negatively impact production elsewhere
Elon compensation
No plans or talks to increase Elon's compensation further
3rd Party Access to Supercharger Network in USA
Tesla plans to provide 3rd party vehicle access to the entire world and remains committed to
that
Tesla is pursuing a technical solution to address the difference in charging connector in the US
(magic dock)
Growth of Supercharger network is being accelerated to match increase in vehicle
production
Tesla Insurance
In state of Texas Tesla is the second largest insurer of Teslas and should be #1 in the next
quarter
Working to get 80% of states access to Tesla insurance by end of year at which point they'll
look to expand to other markets
Having realtime feedback for driving habits (safety score program) is proving helpful to Tesla
owners w/ Tesla insurance as it directly relates to a lower rate
When a crash happens it gives Tesla a new feedback loop to improve vehicle design, reduce costs,
etc (End-to-end visibility)
You can also find outlines from previous earnings calls on his website DBurkland.com.
We're Hiring!
We're looking for a freelance writer who loves Tesla as much as we do. If that's you, we'd love to hear from you! Find out more.