2021 Toyota 4Runner vs. Toyota Highlander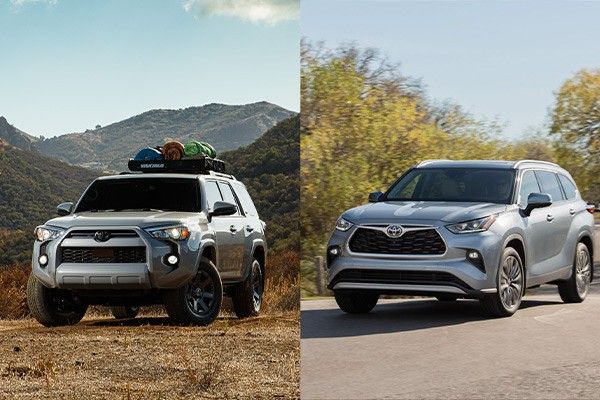 The 4Runner and the Highlander are among the most popular Toyota models of 2021. These SUVs offer plenty of passenger space, strong performance, and a ton of comfort and convenience features. However, each one has its strong suits and weaknesses in other areas.
The 4Runner vs. Highlander
Choosing between the new 2021 Toyota 4Runner and the Highlander is no easy choice. Let's take a closer look at these models to compare spec, features and more!
Price
Price is usually a top concern for families in need of a new vehicle. Shopping around for deals is the best way to get the price you are looking for, but you'll also need to make sure you find a vehicle that is generally in your price range. When it comes to the 2021 Toyota 4Runner versus the Toyota Highlander, the Highlander is generally the more affordable option.
The 2021 Toyota 4Runner starts at $36,765. The 2021 Toyota Highlander starts at $34,810, which is a $2K+ difference in price. However, there are different trims available so a high-end 4Runner TRD Pro starts at $50,470. Meanwhile, a Toyota Highlander Platinum model starts at $46,965.
Performance
Performance is one area where these vehicles differ the most. The 2021 Toyota 4Runner features a 4.0-liter V6 engine that generates 270 horsepower and 278 lb-ft of torque. The Highlander features a 3.5-liter V6 that generates 295 horsepower. Drivetrain options for the 4Runner include the standard rear-wheel drive or optional all-wheel drive, while the Highlander offers all-wheel drive. A five-speed automatic transmission is standard in the 4Runner and an eight-speed automatic in the Highlander.
There winner in terms of off-road performance is the 4Runner. The 4Runner offers a superior off-road experience due to ground clearance and suspension. But if you will be driving around town, the Highlander offers a composed ride suited for easy turns.
If fuel economy is a greater concern than the ability to go off-roading, then the choice is clear. With the 4Runner, you'll get just 16 mpg in the city and 19 mpg on the highway. The Highlander gets 21 mpg in the city and 29 mpg on the highway, making it a more practical option for families.
Interior
Both vehicles are mid-size SUVs with three rows of seating, but there is a slight difference in size. The Highlander offers a cargo area that gives you up to 84.3 cubic feet of space with the seats all folded down. The 4Runner gets up to 88.8 cubic feet of space.
Both the Highlander and the 4Runner come with standard cloth upholstery and a power-adjustable driver's seat. You can, however, upgrade to synthetic leather upholstery or genuine leather upholstery. Heated and ventilated seats, and power-adjustable passenger seats are available as well. Two complete sets of LATCH connectors are featured for easy child car seat installation.
Features
As for features, the 4Runner and Highlander both come with an 8-inch touch screen with Android Auto, Amazon Alexa and Apple CarPlay integration, Bluetooth, a Wi-Fi hotspot and satellite radio. If USB ports are a concern, you get one more with the Highlander (a total of five). The 4Runner offers a superior sound system, sporting eight speakers rather than just six. it also has a 120-volt outlet.
Safety features are plentiful with the Toyota 4Runner and the Toyota Highlander. Both vehicles feature a rearview camera, adaptive cruise control, forward collision warning, pedestrian detection, lane departure warning, and lane keep assist, among other safety and convenience features. Upper-level trims offer more safety features.
Overall
The 2021 Toyota 4Runner and the Toyota Highlander models are comparable in many ways. They offer a similar suite of features and they offer roughly the same size cabins. If you need just a little more space inside, you'll have better luck with the 4Runner. The 4Runner also offers a superior off-road experience but if you just need something for driving around town, the Highlander is a much better option thanks to excellent performance and fuel economy.