2021 Jeep Grand Cherokee: A Trim Comparison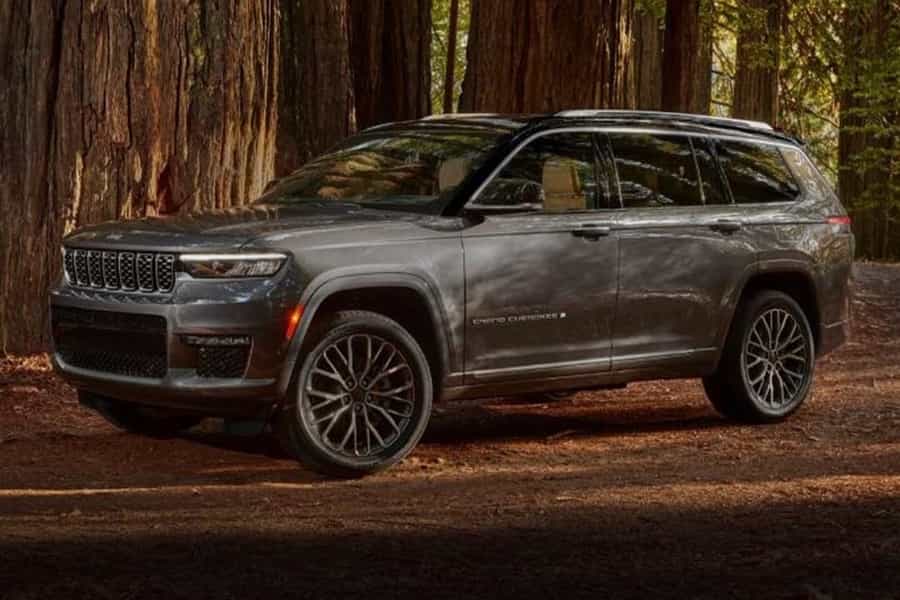 Jeep is a brand with a rich history and a longstanding reputation for rugged vehicles that are ready for just about anything you can throw at them. The tricky part is that many of its vehicles try to be everything to everyone. There are a staggering 11 different Jeep Grand Cherokee trims to choose from for the 2021 model year. That's even before you add in things like powertrain and engine option choices.
There is one important note for the 2021 Grand Cherokee models. New for this model year is a three-row version called the Grand Cherokee L. We've reviewed it separately. The 2021 Jeep Grand Cherokee L features a completely redesigned fifth-generation design. However, even though it has the same model year, the 2021 Jeep Grand Cherokee (2-row version) uses the older fourth-generation design. It won't cosmetically match the larger Grand Cherokee L until the 2022 model year.
Laredo E
The Laredo E is the base-model Jeep Grand Cherokee. A starting MSRP of $34,395 gets you a 3.6L V6 that has 295hp and gets 19 mpg in the city and 26 on the highway. The whole thing rolls on 17×8-inch aluminum wheels and a two-wheel-drive drivetrain. The 2021 Jeep Grand Cherokee Laredo E doesn't have an awful lot in the way of added features, and you can't even really add much to it. Still, it has dual-zone temperature control, audio controls on the steering wheel, and a Uconnect 4 media system with a 7-inch display. Keyless entry and a backup camera come standard. If you want all-wheel-drive, the price bumps up to $36,395 and the mileage goes down to 18 mpg city/25 mpg highway.
Laredo X
The 2021 Jeep Grand Cherokee Laredo X is a slight step up from the previous trim model. The 2WD model has an MSRP of $38,140, and the 4WD model is priced at $40,140. The Grand Cherokee Laredo X has better towing capacity than its lower-trim sibling. While the base Grand Cherokee Laredo E maxed out at 3,500 lbs, the Grand Cherokee Laredo X nearly doubles that capability to 6,200 lbs. It's not just capability that distinguishes the two. This more expensive trim adds an 8-way power driver seat with 4-way power-adjustable lumbar support.
Limited
The 2021 Jeep Grand Cherokee Limited is all dark and brooding. The interior has all-black cloth seats with blue accent stitching and accents of blue throughout the cabin. The wheels of the Limited are also upgraded to 20×8-inch gloss black aluminum, so you are sure to stand out. Also included in this trim is the "Security and Convenience" group of features. This includes a power liftgate, remote start, a universal garage door opener, a comprehensive security alarm, and more. The two-wheel-drive Limited has a starting MSRP of $40,620, whereas the 4WD version jumps up to a starting MSRP of $42,620.
80th Anniversary
The Jeep Grand Cherokee 80th Anniversary is the trim level where buyers start to see some tech upgrades. This trim has a starting MSR of $42,910. The same wheels are carried over from the Grand Cherokee Limited. However, the Grand Cherokee 80th Anniversary has double the color options of its lesser-priced sibling. The interior features an anodized gunmetal finish. The seats are an all-black Capri leather-trimmed affair with perforated suede inserts. One of the technology upgrades that comes standard with this trim is the inclusion of Uconnect 4C NAV with a bigger 8.4-inch touchscreen. For $44,910, you can snag a 4×4 version.
Limited X
The 2021 Grand Cherokee Limited X has a starting MSRP of $45,470. With a distinctive performance sculpted hood with dual heat extractors, it rocks a bold, performance-inspired look. With low-gloss crystal accents and wheels, you are bound to make an entrance wherever you pull up in the Grand Cherokee Limited X. The lighting systems also see a major upgrade. They now including Bi-Xenon HID Headlamps, LED daytime running headlamps, and premium LED fog lamps. Inside the cabin, one of the few major changes that can be seen is that Grand Cherokee Limited X is the addition of steering-wheel-mounted shift levers.
This trim also has a 4WD version that starts at $47,470. A 5.7L Hemi V8 engine is also optional on the Grand Cherokee Limited X for an extra $3,295.
Trailhawk
The 2021 Jeep Grand Cherokee Trailhawk is a little pricier at $45,820. Many of the creature comforts are stripped down, making it less expensive than the 4WD Limited X. But where you're going, you don't need them. The Grand Cherokee Trailhawk is optimized for off-roading. As such, you can only purchase this trim with a 4×4 powertrain.
The Grand Cherokee Trailhawk also comes with the Quadra-Drive II 4WD system to bolster the Quadra-Trac II System. This system has an electronic rear limited-slip differential that transfers all available torque away from a slipping wheel for the greatest traction possible. There are heated front and rear seats and a heated steering wheel. If all that off-roading is making you sweat, however, you'll appreciate the ventilated front seats. The 5.7L Hemi V8 is also an available engine option on this trim level.
Overland
The 2021 Grand Cherokee Overland may sound like it's ready to charge into battle, but this Jeep's strength lies more in its tech and towing. Buyers get a dual-pane sunroof, 9-amplified speakers with subwoofer, and even rain-sensing windshield wipers. The Grand Cherokee Overland is $47,160 for the 4×2 or $50,160 for 4WD. Interestingly, the 4×4 premium is $3,000 starting this trim and onward. It was only $2K on previous trims.
The 4×4 edition also comes standard with Jeep's "Trailer Tow Group IV." This includes a 7-and 4-pin wiring harness, a Class IV receiver hitch, a 20-in by 6-in steel spare wheel, and a heavy-duty engine cooling system designed to vent excess heat generated from pushing that powerful engine to the max. The more power 5.7L Hemi V8 engine is an additional option to choose from.
High Altitude
The High Altitude version of the Jeep Grand Cherokee keeps the love of black found on the regular Altitude trim but ups the luxury level to new heights. This Jeep comes with 20-inch low-gloss granite crystal wheels. In addition, there are corresponding low-gloss granite crystal accents across the grille, taillights, and rear fascia. It also comes with black chrome dual exhaust tips. On the inside, drivers will find a dual-pane sunroof. In terms of tech, the 2021 Jeep Grand Cherokee High Altitude has Uconnect 4C Nav with an 8.4-inch touchscreen, Apple CarPlay and Android Auto support, and GPS navigation. There's also the ability to upgrade to a high-performance audio system. It surrounds you with 19 speakers and features active noise cancellation.
The MSRP for the 4×2 version is $50,105, and the 4×4 comes in at $53,105. Adding the 5.7L Hemi V8 engine options costs an additional $3,295.
Summit
At $53,510, the 2021 Jeep Grand Cherokee Summit is the top trim you can get in a 4×2 powertrain, and it's all about luxury. With features like advanced brake assist, lane departure warnings, and parallel and perpendicular park assist, you might feel like this Jeep just about does half the driving for you. The Grand Cherokee Summit has an exclusive exterior look, as well as a leather-wrapped interior that's also exclusive but optional. A standard 19-speaker Harman Kardon audio system might have you sneaking out to the driveway to listen to music.
The 4×4 version of the Summit checks in at $56,510 and comes with the same trailer tow feature package and engine cooling that appears on the Grand Cherokee Overland. It, too, has the option to upgrade to the larger Hemi engine.
SRT
SRT stands for "Street and Racing Technology," and Jeep is claiming that this SUV is ready for the track. The 2021 Jeep Grand Cherokee SRT comes with a 6.4L HEMI V8 capable of 475hp and 470 lb-ft of torque. Of course, that comes at a cost. The SRT only gets 13 mpg in the city and 19 on the highway. It also comes with a more literal cost—namely, a starting MSRP of $69,610. The SRT is only available as a 4×4. Quadra-Trac Active On-Demand 4WD operates all the time, distributing torque to all wheels evenly until it detects slippage.
You also get a high-speed engine controller and a heavy-duty engine cooling system. It's got a bigger alternator, a bigger rear axle…it's just got bigger stuff all around. It also has a high-performance braking system from Brembo. If you really want to take a Jeep Grand Cherokee to the track instead of, say, a Camaro or a Mustang, this is the one for you.
Trackhawk
Lastly, the most expensive trim is the 2021 Jeep Grand Cherokee Trackhawk at $88,115. It's even more heart-pounding and powerful than the SRT. It uses a supercharged 6.2L V8 engine to produce 707 horsepower and 645 lb-ft of torque. That means it races from 0-60 in just 3.5 seconds. This trim level also adds a superior cooling system and uses the SRT Brembo brake system for optimum control.
At this luxurious price point, buyers will also find suede performance seating on the interior. For the exterior, the Grand Cherokee Trackhawk adds bright quad exhaust tips—something the Grand Cherokee SRT doesn't even have. As with the other upgrades, you do lose some features on the Grand Cherokee Trackhawk, like the steering wheel-mounted controls in favor of mounted shift levers. It also loses integrated voice command with Bluetooth.
(Featured image via Facebook.)