2021 Cadillac Escalade: A Trim Comparison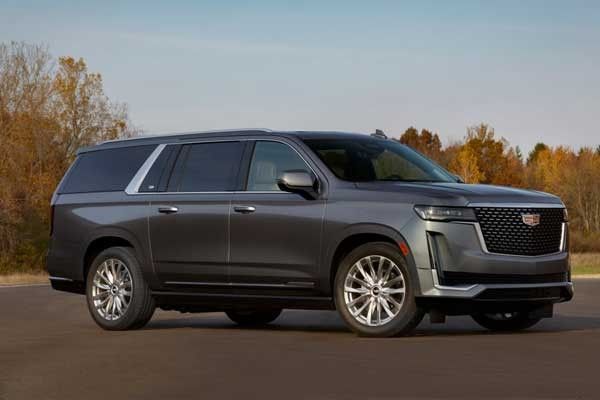 The 2021 Cadillac Escalade is the ride of the stars, and the newest model is big, sleek, and better than ever. Cadillac offers five different trims with different packages for each version, so it can be tough to choose between them. These are the highlights between these trims to figure out which is best for your lifestyle.
Escalade Vs. ESV
One thing to be aware of before choosing a trim are the differences between the regular Escalade and the ESV. The main difference between these variants is merely the size. The ESV features a larger fuel tank and a cargo area that offers about 30 cubic feet more of cargo space, giving you up to 120.9 cubic feet of it. If you are looking for the most towing power, the regular Escalade tows more – up to 8,300 pounds.
Luxury
The base Cadillac Escalade Luxury trim is packed with luxury features and great performance. Starting at $76,195, the Escalade Luxury boasts a standard 6.2-liter V8 with 420 horsepower and 460 lb-ft of torque. However, a turbodiesel 3.0-liter six-cylinder engine that generates 277 horsepower and 460 lb-ft of torque is optional. As for the drivetrain, you can choose between standard rear-wheel drive and available four-wheel drive for a superior off-road experience. Fuel economy estimates are decent for a full-size SUV like this – getting you around 15 mpg in the city and 20 mpg on the highway.
There's no shortage of features with the base trim. The Luxury trim has comfort and convenience features like synthetic leather upholstery, power-adjustable seats, heated seats, a power-folding third-row, keyless entry, a hands-free liftgate and an auto-dimming rearview mirror. The vehicle also features a 7.2-inch digital control panel, 14.2-inch digital instrument cluster and an infotainment system with Android Auto and Apple CarPlay. In addition, a 19-speaker audio system fills your cabin with sound whether you are listening to satellite radio, HD radio or your own sick beats.
Driver assistant safety features offered with the base model: forward-collision warning with front and rear pedestrian detection, front and rear parking sensors, automatic emergency braking, a surround-view parking camera system and the Teen Driver monitoring system, among others. Automatic highbeams and rain-sensing wipers are also there to ensure you have maximum visibility while driving.
Premium Luxury
The 2021 Cadillac Escalade Premium Luxury sees a significant price hike to $83,195, but some of the added features may make the rise in MSRP worth it. While it has the same engine, it does offer plenty of interior upgrades. The Premium Luxury interior includes genuine leather upholstery, ventilated front seats, a panoramic sunroof, and a heads-up display.
Another benefit of the Premium Luxury trim is the addition of extra safety features. This includes several features that may be substantial for safety-conscious drivers. The added features include blind-spot monitoring, lane keep assist, lane departure warning, and rear cross-traffic alerts.
The Premium Luxury trim also offers drivers optional packages like the Driver Assist Tech package ($3,650), adaptive air suspension, reverse automatic emergency braking and adaptive cruise control, as well as the Performance package ($2,700) with magnetic ride control and trailer blind-spot monitoring. Other features you can add are a 36-speaker AKG Studio Reference surround-sound stereo for $4,300, Night Vision Detection for $2,000 and the Super Cruise advanced driving assist system for $2,500.
Sport
The 2021 Cadillac Escalade Sport starts at $85,895 and includes everything in the Performance package mentioned above. But it also has some sporty styling that really makes it stand out. Many of the optional features in the Premium Luxury are also offered with this trim.
Premium Luxury Platinum and Sport Platinum
The last two options are two Platinum trims, with both starting at $100,595. The main difference between these two trims is the sporty exterior styling. Other than that, everything else is the same. You'll get semi-aniline leather upholstery, power-adjustable massage seats, the 36-speaker audio system, rear-seat entertainment, and a suede headliner among other features. Opt-in for a fridge and freezer in the center console for $700, or the Super Cruise and Night Vision packages.
(Featured Image via Cadillac)